WELCOME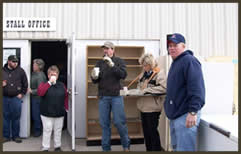 McNamee Auction Company is proud to be family run, full service auction company. We have been in business for ten years and are very excited about the growth of our business in that time.

Upcoming Auctions:
September Consignment Auction
Saturday, September 20th - Starting @ 10:00 AM - Torrington, WY

Donald & The Late Donna Mitchell Farm Equipment, Antique, and Collectible Auction
Saturday, October 11th – Starting at 9:00 AM - Torrington, WY

More Upcoming Auctions:

9/20/14 All Class Consignment Auction @ the Ag Hall located at Goshen County Fairgrounds Starting at 10:00 a.m.
10/4/14  Albany County Art Council Fundraiser Auction in Laramie Wy
10/11/14  Donna Mitchell Antiques & Collectibles Auction selling all classes of antiques & collectibles as well as a small but very clean line of equipment in the Rendezvous Center at the Goshen County Fairgrounds starting at 10:00 am.