WELCOME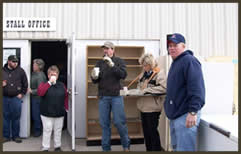 McNamee Auction Company is proud to be family run, full service auction company. We have been in business for ten years and are very excited about the growth of our business in that time.

Don't Forget, our next bi-monthly Wednesday Night Auction will take place on Wednesday, September 30th starting at 5:30pm!
Upcoming Auctions:
Tom and Shirley Nighswonger Living Estate Auction
Saturday, October 3rd – Starting at 10:00 AM -
Torrington, WY
To be held at 3401 West C Street.
Harvey and Miriam Schmer & Guests Personal Property Reduction Auction
Saturday, October 10th – Starting at 9:00 AM - Torrington, WY
To be held at the Rendezvous Center @ the Goshen County Fairgrounds
More about the upcoming auctions, click here.
Mark Your Calendar for These Upcoming Auctions in October:
Collectible and Tool Auction on Oct. 17th
Business Liquidation Auction on Oct. 24th - This sale will include a 2007 Peterbilt Semi Truack, 2 International Trucks (4700 and 4300 series) with 8' x 24' van boxes and 3 53' semi traierls along with a large offering of Snap-On tools. Watch for the entire listing on Oct. 1st!