WELCOME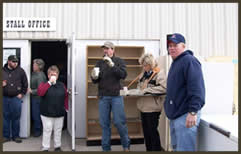 McNamee Auction Company is proud to be family run, full service auction company. We have been in business for ten years and are very excited about the growth of our business in that time.

Upcoming Auctions:
Brian and Janet Reed Personal Property Auction
Saturday, October 1st – Starting @ 10:00 AM
2302 East G St. – Torrington WY


Glenda and the Late Jerry Kraus
Personal Property Reduction Auction
Sunday, October 2nd – Starting @ 1:00 PM
Located at 8083 US Highway 85 - Lingle WY


Able Equipment Business Liquidation Auction
Friday, October 7th – Starting @ 9:00 AM
999 Poison Spider Rd. - Casper, WY

Watch for more UPCOMING auctions!